Iraqi military forces are taking over the security responsibility of the Si-niya base in northern Iraq, which was previously run by US troops.
The base is one of many that are being handed over to Iraq in preparation for complete US withdrawal in 2011.
The 14th Brigade of the Iraqi Army took over the base Saturday. The commander of the US troops at the base says they believe the Iraqi soldiers are fully capable of maintaining security in the town.
Washington has pulled out its soldiers from many major towns and cities. There are 100-thousand US troops currently stationed in Iraq.
By the end of August that number should be whittled down to 50 thousand. A full withdrawal will occur by the end of August, 2011.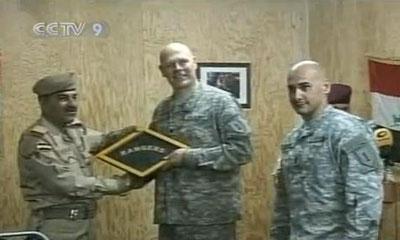 Iraqi military forces are taking over the security responsibility
of the Si-niya base in northern Iraq, which was previously run by
US troops. (CCTV.com)
Editor: Zhang Pengfei | Source: CCTV.com