Scientists are working to determine the exact concentration of volcanic dust in the air, to help airlines decide when it'll be safe to fly.
Experts said on Tuesday that a low pressure weather system moving into Iceland should help clear the volcanic ash cloud within days.
The Icelandic meteorological office said the cloud has become smaller and has lowered to about 3,000 meters above the sea level from its previous readings of six to 11 kilometers.
But strong winds are still making conditions uncertain. Meanwhile, the UN said while the ash cloud is set to drift towards North America over the next day and a half, it should not disrupt trans-Atlantic flights.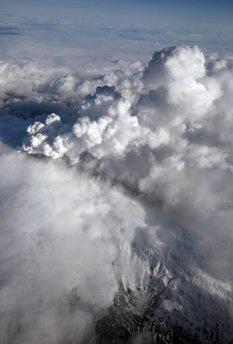 Smoke billows from an erupting volcano
on the Eyjafjallajokull glacier on
April 14.
(AFP/Icelandic Coast Guard/File)
Related stories
Editor: Zhang Pengfei | Source: CCTV.com