Kyrgyz president confirmed in Minsk
2010-04-21 08:36 BJT
Special Report: Unrest in Kyrgyzstan |
The President of Belarus, Alexander Lukashenko, has confirmed that ousted Kyrgyz president, Murmanbek Bakiyev, has taken refuge in the capital Minsk.
On Tuesday, Lukashenko said Bakiyev and three others were under the protection of the Belarussian state. Lukashenko's move to give refuge to Bakiyev appears to be a challenge to Russia which was the first to recognise the interim government of Kyrygzstan.
Bakiyev fled the Kyrgyz capital, Bishkek, after mass protests on April 7th, toppled his government. The violence left more than 80 people dead.
He initially sought refuge in neighboring Kazakhstan, but on Monday, the Kazakh foreign ministry announced he'd left for an unknown destination.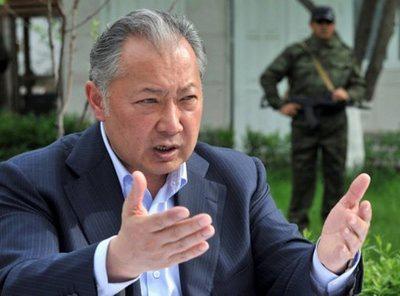 Belarus President Alexander Lukashenko has confirmed that his
ousted Kyrgyz counterpart Kurmanbek Bakiyev, seen here on April
13, is in Minsk. (AFP/File/Vyacheslav Oseledko)
Editor: Zhang Pengfei | Source: CCTV.com