Bolivia is hosting the "World People's Conference on Climate Change and the Rights of Mother Earth," in the city of Tiquipaya.
Organizers are billing it as an alternative to last year's climate conference in Copenhagen. The summit has gathered indigenous groups, scientists, activists and delegations from lower income countries, the same group that many argue, are bearing the brunt of climate change.
Hundreds of people attended the opening ceremony, where they called on world leaders to take action on climate change.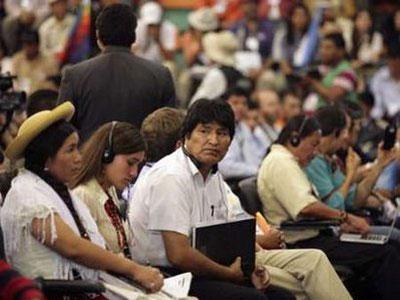 Bolivia's President Evo Morales attends the World People's
Conference on Climate Change and the Rights of Mother Earth
session in Tiquipaya on the outskirts of Cochabamba April 20,
2010. REUTERS/David Mercado
Related stories