Thousands of demonstrators are occupying a luxury shopping district in Bangkok, adjacent to a business district guarded by hundreds of armed troops. The army says deadly force may be used against protesters besieging the heart of the capital in their bid to topple the government.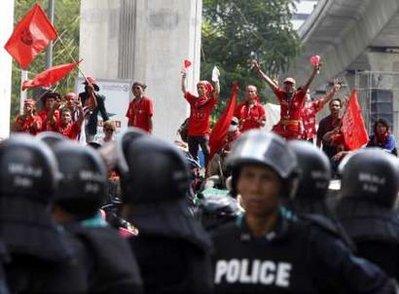 Anti-government "red shirt" protesters waves red flags as they
stand on top of a barricade built with bamboo poles and tyres
facing riot police at an intersection close to the Silom Road
financial district in Bangkok April 21, 2010. REUTERS/Eric Gaillard
The Thai government has repeatedly warned of the danger of the "red-shirt" rally site in Bangkok. According to intelligence reports, the "red-shirts" have been stockpiling home-made weapons such as grenades, acid, large fireworks and sharpened wood. But the protesters deny the reports.
Anti-government protesters say they are open to talks through a third party to prevent bloody clashes with armed troops. Meanwhile, the government spokesman also says that Thai Prime Minister Abhisit Vejjajiva is willing to hold talks with the protesters but only if they agree not to escalate tensions.
Editor: Du Xiaodan | Source: CCTV.com