Flights have resumed at Frankfurt international airport, Germany's busiest air hub. Other major airports across Europe are also handling increased passenger flow, as most restrictions due to the spread of volcanic ash from Iceland comes to an end.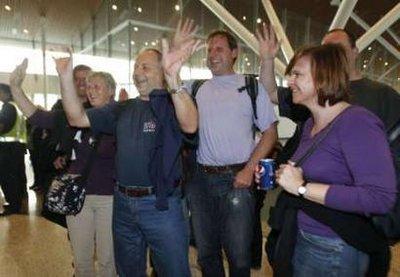 Passengers of Malaysia Airline System's MH0001S gesture to journalists
as they arrive from Frankfurt at Kuala Lumpur International Airport
outside Kuala Lumpur April 21, 2010. REUTERS/Bazuki Muhammad
Germany's busiest airport was returning to business as usual on Thursday.
European air traffic agency Eurocontrol says it expects up to 29,000 flights to operate throughout the continent on Thursday.
They say currently almost all European airspace is back to normal.
Peter Holz, German Passenger, said, "We kept checking whether our flight today would take off or not and luckily, we are now able to fly."
Meanwhile, a UK luxury cruise ship arrived in Bilbao, Spain, to pick up more than 2,500 stranded British tourists.
The firm that owns the 500 million UK pound liner says it is pleased to help out.
Many passengers, some of whom have been stranded abroad for seven days, waited all night for the ship to arrive.
Related stories