The International Whaling Commission has come up with a proposal to decrease the number of whales that are hunted and killed in the Antarctic each year.
It says strict new catch limits could be enforced, which countries like Japan would need to follow.
Hirotaka Akamatsu, Japanese Fisheries Minister, said, "We are pleased that the proposal formally allows for the coastal hunting of small whales which is something we've been insisting on for a long time, but our position remain apart on the overall number of whales that are allowed to be killed, so we intend to negotiate hard from here on in."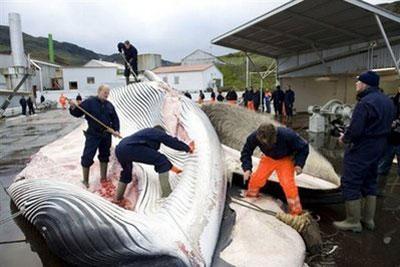 Whalers cut open a 35-tonne Fin whale in June 2009, one of
two fin whales caught aboard a Hvalur boat off the coast of
Hvalfjsrour, north of Reykjavik, on the western coast of Iceland.
(AFP/File/Halldor Kolbeins)