During the annual International Monetary Fund and World Bank meetings in Washington, the IMF's policy-steering committee has vowed to strengthen financial regulation.
Leaders have also pledged to address the risks posed to the global recovery from high levels of debt.
The policy-steering committee, made up of 186-nations, says the recovery from the global economic downturn is gaining strength, but difficult challenges still lie ahead.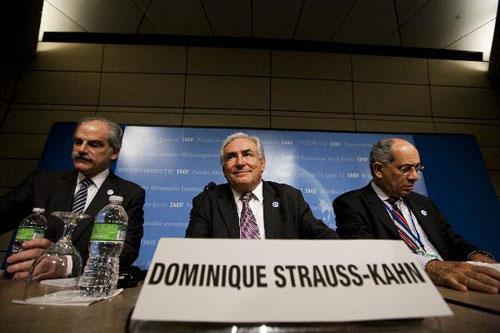 International Monetary Fund First Deputy Managing Director John Lipsky,
International Monetary Fund (IMF) Managing Director Dominique Strauss-Kahn
and Egyptian Minister of Finance and Insurance Youssef Boutros Ghali
(L-R) give a press conference after the International Monetary and Financial
Committee (IMFC) meeting in Washington D.C., capital of the United States,
April 24, 2010. (Xinhua/Zhu Wei)