Meanwhile, the Greek Finance Minister says his country's negotiations with the IMF for a 15-billion-euro rescue are progressing smoothly and should wrap up soon.
He added talks with European partners on a separate 30-billion-euro bailout are going on simultaneously.
George Papaconstantinou, reek Finance Minister, said, "We are very confident that these negotiations, which have started even before we actually asked for the activation of the mechanism, will be concluded rather soon. They are going very well. The team of the EU, the ECB and the IMF in Greece is working with our collaborators on technical aspects. It is very clear that we want to conclude this as soon as possible."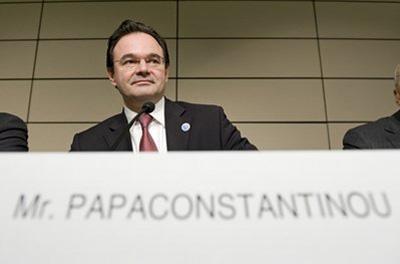 Greek Finance Minister George Papaconstantinou appears at a press
conference during the G-20 Meeting of Finance Ministers and Central
Bank at the World Bank headquarters in Washington, Sunday, April
25, 2010. (AP Photo/Cliff Owen)
Related stories