Over the coming Spring Festival, China Central Television will present its latest documentary series "Dunhuang". The production is the result of six years of hard work by researchers and crews from home and abroad.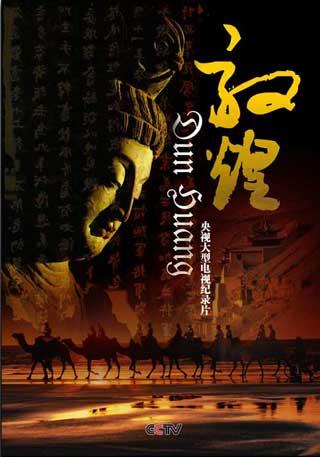 Poster of CCTV documentary "Dunhuang"
"Dunhuang" is in ten episodes, each running for 45 minutes. It presents a compelling chronicle of the historical site of Dunhuang, in Northwest China's Gansu province.
Located at the head of the ancient trade route the Silk Road, the town of Dunhaung was founded as a prefecture during the early Han Dynasty,some two thousand years ago. This is when people in central China first came into large-scale contact with communities to their west. Over the following centuries, Buddhist grottos were built, which featured exquisite wall paintings and stone sculptures. During the Song Dynasty around a thousand years ago, the site fell into oblivion. It was discovered in the late 19th century.
The series was filmed using the latest High Definition technology. It was produced by the same team that created "Palace Museum", a very popular documentary from a couple of years ago. As well as breathtaking photography, the production required extensive research by leading international scholars. The crew of more than one hundred made nine arduous trips to the site.
The score is by He Yong and Zhang Chu, both pioneers of Chinese rock'n'roll. They adapted folk music from the area into their arrangements. Xu Wei, another veteran rock'n'roller, sings the theme song.
Editor: Liu Fang | Source: CCTV.com