Watch Video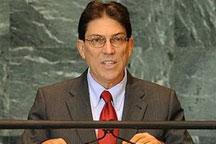 Play Video
The UN General Assembly is to vote on whether to end the economic, commercial and financial embargo imposed by the US against Cuba.
Ahead of Wednesday's vote, people's lives in the country continue to reflect the 47-year-old blockade.
At this cancer hospital in Havana, doctors blame the embargo for their difficulty in getting hold of specialist pumps.
Jesus De Los Santos Reno Cespedes, Director of Nat'l Inst. of Oncology & Radiobiology, said, "We have experienced difficulties acquiring these infusion pumps from markets near our country, such as the United States, for reasons we are all aware of, because of the blockade."
The embargo also makes it difficult to buy new cars, trains and buses, meaning Cuba has to rely on out-of-date modes of transport.
Cuba has had to look to other countries for trade, using credit to buy thousands of new buses from China, which are mostly used to carry tourists. But there are not enough to meet demand.
Jorge Bolanos, Head pf Cuban Int. Section, Washington DC, said, "The embargo affects the everyday life of Cubans; of children, women, of the elderly, and men. There are no economic or social sectors where the blockade does not have an adverse impact. "
The blockade dates back 47 years.
The full trade embargo took effect on February 7, 1962, under then US President John F. Kennedy, blocking all trade with Cuba except for non-subsidized sales of food and medicine.
Its aim was to financially strangle Fidel Castro's government and force a change in the communist-run island's system.
Over the past 17 years, the UN has voted overwhelmingly to repeal the unilateral sanctions, with the United States and a few allies voting in opposition or abstaining.
But now, both sides may have taken steps to improve the near half century of frosty relations.
Editor: Zhang Pengfei | Source: CCTV.com