The Sudanese government has signed a ceasefire agreement with the Justice and Equality Movement, also known as the JEM, a key rebel group in Darfur.
The new development is being considered a big step towards ending the seven year conflict.
Tuesday's signing between Sudan and the JEM in Doha, was considered the prelude to a permanent peace agreement.
Sudanese president Al-Bashir said the ceasefire was a significant step towards ending the conflict in Darfur. He said he hoped a final peace accord could be sealed by mid-March.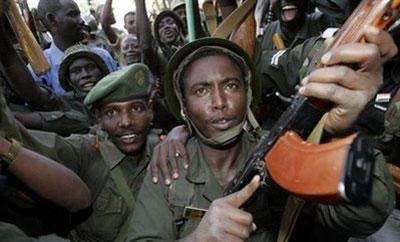 File photo Sudanese forces showing support for President Omar
al-Beshir in the capital Khartoum. (AFP/File/Ashraf Shazly)