ABU DHABI, Nov. 27 (Xinhua) -- The herd instincts of global markets and media over dramatized the request for a freeze on debt payments by Dubai World, one of Dubai's largest and most important conglomerates, a state-run newspaper said Friday.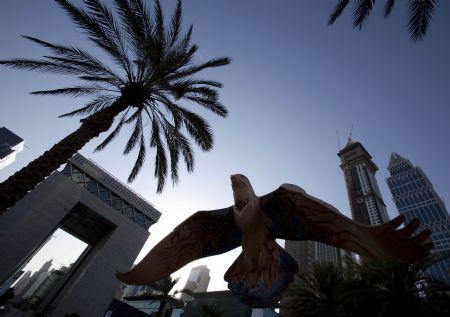 Dubai's stock market is closed on the first day of the long Eid al-Ad holiday
in Dubai, November 26, 2009. Dubai has asked creditors at flagship firms
Dubai World and property developer Nakheel, to delay repayment on billions of
dollars of debt with the announcement appeared to be timed to minimise its
impact on regional markets.(Xinhua/Reuters Photo)
"With the U.S. on its Thanksgiving holiday, the Middle East on Eid al Adha, and trading on the London Stock Exchange temporarily closed for technical reasons, the environment yesterday was ripe for rumor and sensation," The National said in an editorial.
Recent stories about debt-ridden Dubai World's troubles provided the essential raw material for rumors in financial markets, the newspaper added.
Dubai, a member of the oil-rich federation the United Arab Emirates (UAE), announced Wednesday that it would ask creditors of Dubai World, one of the country's leading holding companies that includes port operator DP World and property developer Nakheel, to agree to a debt moratorium of at least six months as a first step towards restructuring.
It is reported that Dubai World has 59 billion U.S. dollars of liabilities, representing almost three fourths of Dubai's total debt of 80 billion dollars.
The announcement, described by ratings agency Standard and Poor's as a default, provided the focus for world financial markets Thursday, hitting bank stocks and the price of oil, but lifting the dollar on a day when U.S. and most Gulf markets were closed.
The National, however, said Dubai World's debt plan will soon no longer be the focus of media reports as a debt standstill is a normal part of the corporate restructuring process and a valid option for Dubai, whose main revenues are from tourism, real estate and financial services.
"After a few days, the Dubai story will find itself off the front pages; it will linger for a while in the business sections, as the procedures of the standstill are worked through; but eventually the emirate will be back in its usual slots -- the travel, architecture and lifestyle supplements," the paper said.
But there is some serious work to be done before normal service is resumed on how the world sees Dubai, since confidence has been badly dented by the way the restructuring was made public, according to The National.
"Dubai World's problems are of a different magnitude and have greater implications outside the narrow confines of the Gulf. That is all the more reason for calm, long-term consideration, rather than hysteria, by global markets," it noted.