China on Tuesday began construction of the world's longest cross-sea bridge linking its southern economic hub Guangdong Province to Hong Kong and Macao, a move widely expected to bring economic ties closer.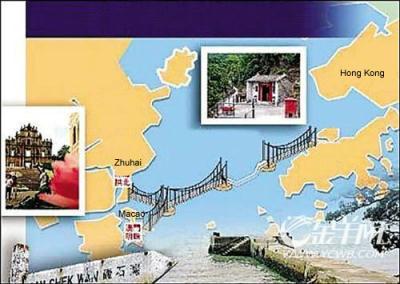 The layout of the Hong Kong-Zhuhai-Macao Bridge. [File photo:
ycwb.com]
Chinese Vice Premier Li Keqiang attended the inauguration ceremony in Zhuhai, Guangdong, and announced the opening of the project.
The Y-shaped Hong Kong-Zhuhai-Macao bridge will have a total length of almost 50 km, of which about 35 km will be built over the sea, making it the longest cross-sea bridge in the world, said Zhu Yongling, an official in charge of the project construction.
It will be built according to the six-lane expressway standard with a vehicle speed limit of 100 km per hour.
"It is designed with a service life of 120 years. It can withstand the impact of a strong wind with a speed of 51 meters per second, or equal to a maximum Beaufort scale 16 (184 to 201 km per hour)," Zhu said.
The entire project is estimated to cost almost 73 billion yuan (10.7 billion U.S. dollars), which will be shared by authorities on the mainland, and in Hong Kong and Macao, he said.
During construction in the following years, they will take into consideration the protection of ocean ecology and fishery resources, such as white dolphins, he said.
"We will control the construction noises and turbidity of seawater, and prevent oil pollution," he added.