The Yarlung Zangpo's dramatic course creates the world's longest and deepest canyon in Tibet.

The snow-capped peak of Namjagbarwa.
I had read a lot about the Yarlung Zangbo Grand Canyon in Nyingchi prefecture - regarded as the world's longest and deepest, stretching 496 km and averaging more than 5,000 m in depth - and longed for a chance to see it. I got to fulfill my dream last September, while assigned to work in the Tibet autonomous region's tourism bureau.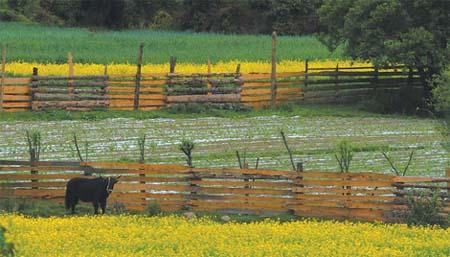 Rapeseed flowers in Bayi, capital of Nyingchi prefecture.
The Yarlung Zangbo River runs eastwards along the northern foothills of the Himalayas. The lower reaches of the river cut through the mountain range before making a sharp U-turn around Namjagbarwa Peak in Pai, Namling county, in eastern Tibet - the starting point of the Grand Canyon.
My friends and I head for Nyingchi, which lies 400 km to the east of Lhasa. From there, we climb Mt Serkyimla, at an altitude of 4,702 m and reach the town of Pailong.
Tibetan Minority, simple and honest native group


The Tibetans with a population of 5,416,021 mostly live in the Tibet Autonomous Region. There are also Tibetan communities in Qinghai, Gansu, Sichuan and Yunnan provinces.