Tibet's tourism bureau to attract more tourists during new year
2010-02-12 08:58 BJT
Special Report: 2010 Spring Festival |
With the traditional Tibetan New Year set to begin on Feb. 14, the Tibet Autonomous Regional Tourism Bureau is preparing to launch the event with a host of activities aimed at attracting more travelers to the region.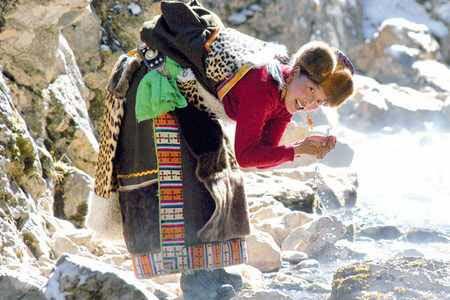 River pilgrimage. (Photo: IC)
The festival marks the beginning of the Tibetan New Year and is usually celebrated on the first day of the first month of the Tibetan lunar calendar and ends on the new moon.
One of the most important customs of the festival is a pilgrimage to a nearby river very early on the first day to pray for happiness and good fortune. A barrel of water from the river is then taken home to boil tea, regarded as a symbol of good luck.
Full of dancing, music and merriment, the traditional ritual of qugui (ghost driving) also adds to the atmosphere.
Travelers can join in a traditional Tibetan banquet organized by local people and sample delights such as tsamba, fried barley kernels and local ginseng, according to the bureau.
Related stories
Editor: Yang Jie | Source: China.org.cn