China to enhance armed police's ability to fight terrorism: report
2010-03-05 09:19 BJT
Special Report: 2010 NPC & CPPCC Sessions |
BEIJING, March 5 (Xinhua) -- China will modernize its armed police force and make it better able to respond to emergencies, fight terrorism and maintain stability, according to a government work report on Friday.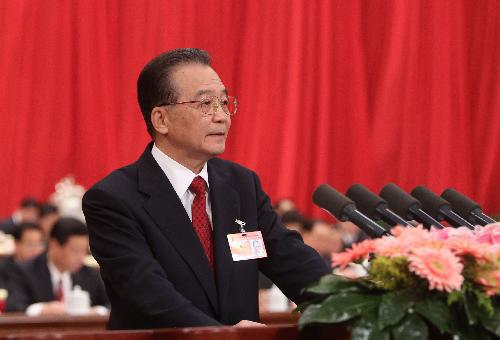 Chinese Premier Wen Jiabao delivers a government work report during the opening
meeting of the Third Session of the 11th National People's Congress (NPC) at the
Great Hall of the People in Beijing, capital of China, March 5, 2010.
(Xinhua/Liu Weibing)
The report, delivered at the annual session of the National People's Congress, also reads "Governments at all levels should, as always, care about and support the strengthening of national defense and the army."
China will enhance the army's ability to respond to multiple security threats, with a focus on winning regional wars in the information age.
Other major tasks outlined in the report include accelerating the development of a modern military logistics system, intensifying research and development on national defense, and improving weapons and equipment.
Editor: Zhang Pengfei | Source: Xinhua