BEIJING, March 5 (Xinhua) -- China will inject "proper and sufficient" money and credit into the economy to ensure growth this year, as the moderately easy monetary policy will continue, said Premier Wen Jiabao at the parliament's annual session Friday.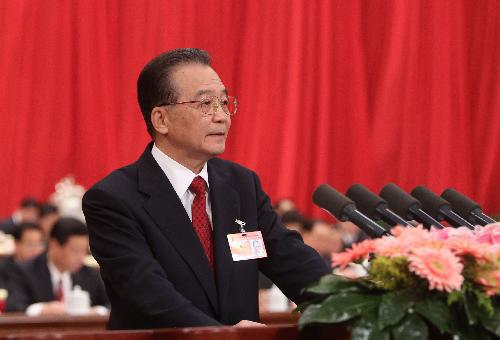 Chinese Premier Wen Jiabao delivers a government work report during the opening
meeting of the Third Session of the 11th National People's Congress (NPC) at the
Great Hall of the People in Beijing, capital of China, March 5, 2010.
(Xinhua/Liu Weibing)
The renminbi loan target is about 7.5 trillion yuan, 21 percent less than the figure for 2009, said Wen when delivering a government work report at the Third Session of the 11th National People's Congress (NPC).
The broad measure of money supply, M2, which covers cash in circulation and all deposits, will rise around 17 percent year on year in 2010, slowdown from an increase of nearly 30 percent last year.
"Although both of these increases are less than the actual increases last year, they are still moderately easy policy goals, and they can satisfy reasonable financial demands of economic and social development," Wen said.
In addition, these goals are beneficial for managing inflation expectations and making financial support for economic development more sustainable, he said.
Wen pledged to improve credit structure to make sure loans benefit important areas and effectively alleviate the difficulties farmers and small businesses have in obtaining financing.
Wen also vowed to step up supervision of the loan use to make sure the money benefit the real economy, and control lending to industries that are energy-intensive, highly polluting or saddled with overcapacity.
Chinese financial institutions lent a record 9.59 trillion yuan of new loans last year to facilitate economic recovery from the global financial crisis. The unprecedented loans also triggered fears of inflation and fueling asset bubbles.
Editor: Zhang Pengfei | Source: Xinhua