China to invest massive funds to boost employment: premier
2010-03-05 10:53 BJT
Special Report: 2010 NPC & CPPCC Sessions |
BEIJING, March 5 (Xinhua) -- Chinese government on Friday announced to allocate 43.3 billion yuan (6.34 billion U.S.dollars) to boost employment this year as it opens its annual parliament session.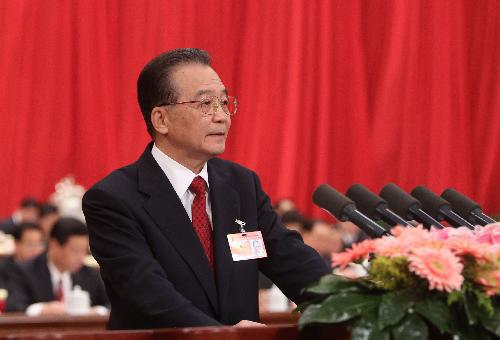 Chinese Premier Wen Jiabao delivers a government work report during the opening
meeting of the Third Session of the 11th National People's Congress (NPC) at the
Great Hall of the People in Beijing, capital of China, March 5, 2010.
(Xinhua/Liu Weibing)
"We will do everything in our power to increase employment," said Premier Wen Jiabao in his government work report to the Third Session of the 11th National People's Congress (NPC).
China plans to create over 9 million new jobs in urban areas and keep the urban registered unemployment rate no higher than 4.6 percent, Wen said.
The employment situation this year will "still be serious," he said, while calling for relentless efforts to tackle the problems.
College graduates and rural migrant workers are the top two groups of people that will be given the most attention, and the government will offer more policy support and employment guidance with strengthened vocational training and improved employment services system, he said.
China created 11.02 million new jobs in urban areas in 2009 amid the lingering financial crisis, while the country's urban unemployment rate stood at 4.3 percent, with 9.21 million people being registered to be unemployed.
Editor: Zhang Pengfei | Source: Xinhua