China to continue reforming cultural system: premier
2010-03-05 12:49 BJT
Special Report: 2010 NPC & CPPCC Sessions |
BEIJING, March 5 (Xinhua) -- Premier Wen Jiabao said Friday China will continue to reform its cultural system and encourage cultural innovation.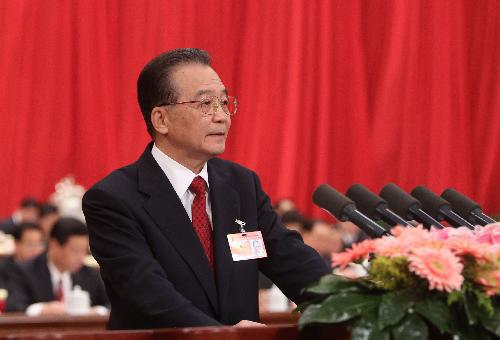 Chinese Premier Wen Jiabao delivers a government work report during the opening
meeting of the Third Session of the 11th National People's Congress (NPC) at the
Great Hall of the People in Beijing, capital of China, March 5, 2010.
(Xinhua/Liu Weibing)
In the past year, development and reforms of the cultural industry effectively expanded domestic demand, Wen said at the annual session of the National People's Congress, the top legislature.
"In the new year, we need to pay greater attention to and vigorously promote cultural progress," he said.
China is deepening reforms on its cultural system, such as encouraging state-owned cultural groups to convert to a stake-holding system.
Wen said China can not only create economic miracles, but also make brilliant new cultural achievements.
Culture is the "spirit and soul" of a nation and the "determining factor" of whether it is truly strong or not, he said.
Wen also promised to give priority to developing cultural infrastructure and allocating public cultural resources in rural areas and less developed central and western regions.
Editor: Zhang Pengfei | Source: Xinhua