VIENNA, April 25 (Xinhua)— Iranian Foreign Minister Manouchehr Mottaki said here on Sunday that Iran is willing to consider enriching uranium in other countries as suggested by the International Atomic Energy Agency (IAEA).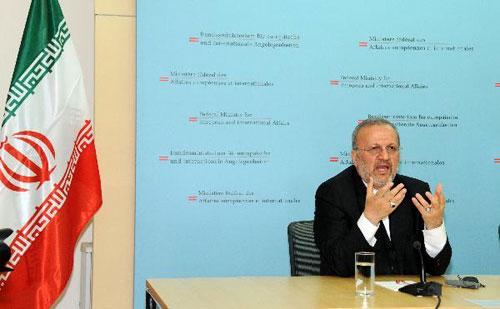 Iranian Foreign Minister Manouchehr Mottaki speaks during a joint press conference
with his Austrian counterpart Michael Spindelegger (not pictured) in Vienna April
25, 2010. (Xinhua/Liu Gang)
At a joint press conference held after meeting his Austrian counterpart Michael Spindelegger, the visiting Iranian official said his country is willing to negotiate on the issue, but details should be worked out later. He said he will discuss the issue with members of the UN Security Council.
Mottaki reiterated that Iran has the right to use nuclear energy for peaceful purposes and there was no reason for sanctions against Iran on the issue. Furthermore, the sanctions imposed on Iran over the past five years have been ineffectual, he added.
But Spindelegger said Iran should cooperate with the global community on the issue actively, otherwise "the trend of sanctions against Iran" will continue.
He also said that he "did obtain some new messages" during the meeting with Mottaki, but he still needs to evaluate them. The massages will be disclosed at a meeting of EU foreign ministers next Monday.
Mottaki also met IAEA chief Yukiya Amano during his visit to Vienna.
The United States, other Western countries and Israel criticized Iran's nuclear plan, which they said is intended to develop nukes. But Iran said its nuclear plan is for peaceful purposes only and defended its right to use nuclear energy.
The IAEA made a proposal last autumn, suggesting that Iran take its low-enrichment uranium of 3.5 percent to other countries, where it can be processed into high-enrichment uranium of 20 percent before being sent back to Iran. The processed high-enrichment uranium will be then used as fuel for nuclear reactors and for medical purpose.
Related stories
Editor: Zhang Pengfei | Source: Xinhua