Three Gorges performane
2009-09-12 14:54 BJT
Special Report: 60th Anniversary of PRC |
Watch Video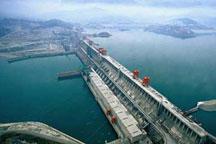 Play Video
One of the most famous of China's rivers is the Yangtze. Each year people from around the world travel to China for a cruise on the river, which now features the world's biggest hydropower complex.
The Three Gorges Project is China's key to harnessing and developing the mighty Yangtze River.
It has played an important part in a recent battle against a severe flood. In addition, the Three Gorges Project also brings huge benefits in power generation and navigation. Liu Ming reports from Yichang in China's central Hubei Province.
Sun Changzhong has been involved in the construction of the Three Gorges Dam for more than 12 years. He started as apprentice in 1997 and is now a senior engineer. He says building the huge project has been a process of meeting challenges.
Sun Changzhong, Senior Engineer, Three Gorges Project, said, "Among all the challenges, the biggest was completing the project within a short time frame. We thought it was impossible at first. But, after doing plenty of research, we believed it was feasible and we finally made it through hard work. It was great work."
Floods have been China's most damaging natural disaster during the past decades. Among all the flood rivers in China, the Yangtze is the most damaging. It causes numerous casualties and severe losses each time it floods. How to deal with and harness the Yangtze River has been one of the top considerations by the Chinese government.