Flag-raising ceremony held in Macao
2009-12-20 12:22 BJT
Special Report: Macao 10 Years On |
Today is the 10th anniversary of Macao's return to China. A flag-raising ceremony was held in Macao to mark the day.
As one of the first activities of the day, the Macao SAR Government held a flag-raising ceremony at 8 a.m. at Golden Lotus Square, followed by a series of performances.
Macao's new Chief Executive, Fernando Chui Sai-On, and Macao's outgoing Chief Executive, Edmund Ho Hau Wah, attended the ceremony.
There were also officials from the Special Administrative Region's government and the Macao offices of the central government. The ceremony has also attracted hundreds of Macao residents.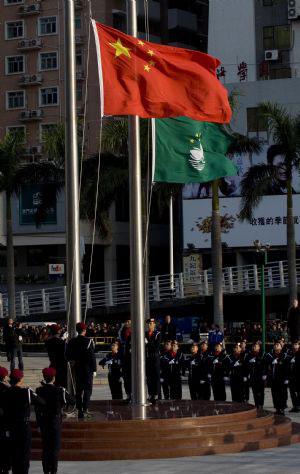 The flag-raising ceremony marking the 10th anniversary
of Macao's return to the motherland is held at the
Golden Lotus Square in Macao Special Administrative
Region (SAR) in south China on Dec. 20, 2009.
(Xinhua/Lui Siu Wai)
Editor: Zhang Pengfei | Source: CCTV.com