Severe water shortages in Bolivia are posing a grave challenge to the government. On World Water Day, the Bolivian President Evo Morales called on the UN to highlight access to drinking water a basic human right.
Collecting water for his family is an important task for 9-year-old Orlando. In El Alto, a satellite city north of La Paz, many families have access to running water only 3 days a week. Even young children feel bound to help.
One of the pleasures of the job is that Orlando can drink to his fill before going back home. His mother feels the boy should have a better life.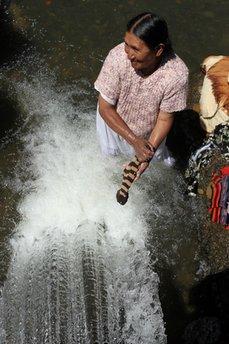 A woman washes clothes in El Alto,
Bolivia during World Water Day Monday,
March 22, 2010. (AP Photo/Juan Karita)