Shen, Zhao strike a golden finish for their career at Vancouver
2010-02-16 15:41 BJT
Special Report: 2010 Vancouver Winter Olympic Games |
China's figure skating couple Shen Xue and Zhao Hongbo finally realized their Olympic dream, dancing to gold in the figure skating with a nearly flawless routine.
The husband and wife team who came out of retirement in quest of Olympic glory, broke Russia's stranglehold on the Games figure skating pairs event on Monday with a performance worthy of 18 years' hard work together. Meanwhile, another Chinese duo Pang Qing and Tong Jian claimed silver to complete a 1-2 finish for China.
After finishing top in the short program, Shen Xue and Zhao Hongbo looked confident to start their free skating routine.
Under the song of "Adagio" by Italian composer Albinon Tommaso, the three-time world champions put on a breathtaking performance.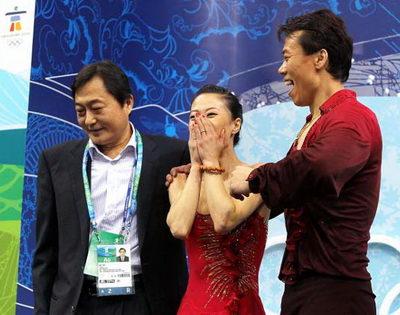 Chinese figure skating coach Yao Bin (L) is coach of both of the
figure skating pairs of Shen Xue, Zhao Hongbo and of Pang Qing, Tong Jian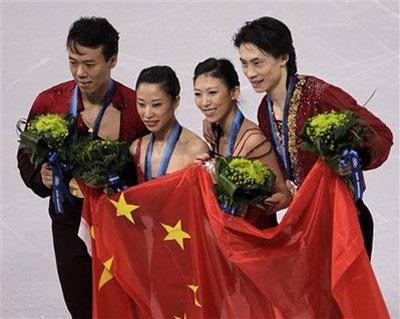 Gold medallists Shen Xue and Zhao Hongbo of China, left, and silver
medallists Pang Qing and Tong Jian of China, right, pose for
photographers with the national flag of China, during the victory
ceremony, following the pairs free program figure skating competition
at the Vancouver 2010 Olympics in Vancouver, British Columbia, Monday,
Feb. 15, 2010. (AP Photo/David J. Phillip)