The French capital of Paris, home to the Paris Marathon on Sunday, and Ethiopian runners put on a distance running clinic. Ethiopian runners Tadesse Tola and Atsede Bayisa, winning the men's and women's marathons respectively.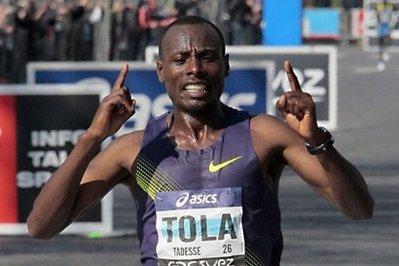 Ethiopian Tadesse Tola crosses the finnish line of the 34th Paris
Marathon. Tola and Atsede Baysa won the 34th Paris marathon on
Sunday.(AFP/Jacques Demarthon)
Weather conditions were ideal on Sunday as the Paris Marathon got underway under sunny blue skies.
Around 35 thousand runners were at the starting line at the Champ Elysees close to the Arc de Triomphe, the majority just hoping to make it around the 42 kilometre course in one piece.
However for the elite runners, there was a title at stake.
In the men's race, the leading pack stayed tightly together for the majority of the distance and there were no attempts at a breakaway.