Election officials are tallying votes from the first peace time parliamentary election in Sri Lanka. It's expected that the results will hand President Mahinda Rajapaksa's ruling alliance an easy victory amid dismal turnout.
Only half of the country's registered voters went to the polls in the first peace time parliamentary election.
The country seems to be suffering from voter fatigue. A presidential election was held three months ago, in which Mahinda Rajapaksa ensured himself a new six-year term.
This time the President is seeking a two-thirds parliamentary majority allowing his party to change the constitution.
The opposition fears a change will enable Rajapaksa to remain in power past the end of his second term in 2017.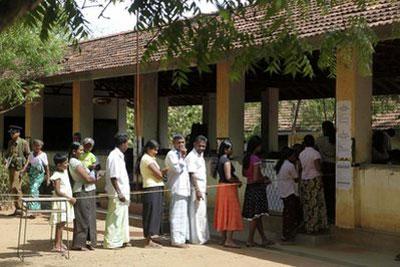 Sri Lankan voters stand in a queue outside a polling station
near Hambantota Sri Lanka, Thursday, April 8, 2010.
(AP Photo/Manish Swarup)
Related stories