YANGON, April 16 (Xinhua) -- A total of 170 people were injured in a series of three bomb blasts in Myanmar's third day water festival activities in Yangon on Thursday afternoon, up from 94, while the death toll remained at eight, Friday's official daily New Light of Myanmar reported.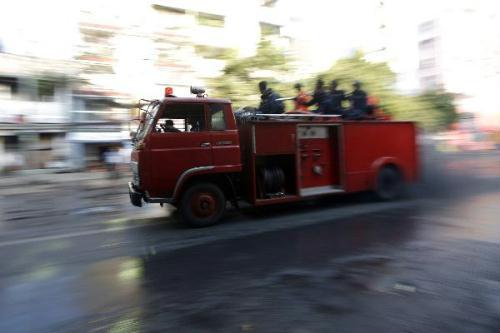 A fire engine rushes to the site of explosions in Yangon April 15, 2010.
(Xinhua/Reuters Photo)
Among the injured 125 are men, 45 are women, and among the dead, five are male, three are female, the report confirmed.
The report described such terrorist attacks in the water festival as being "merely intended to tarnish Myanmar traditional culture and insult the public."
The authorities warned revelers in various regions across the country including the new capital of Nay Pyi Taw, Yangon and Mandalay to remain vigilant against potential atrocities to help expose terrorists.
The daily condemned in an article the terrorist attacks, saying that "attacking those participating in the traditional Thingyan happily and peacefully with the bombs is an insult to the people. It is an inhuman act. Because of such subversive acts, we the people abhor and loath the terrorist insurgents."
The article warned that "terrorist insurgents usually hide themselves in disguise among the people. We cannot identify the terrorists easily. This is why they are brazenly committing subversive acts by sliding into the crowds of ordinary people in disguise".
The three bomb explosions occurred in front of a water throwing pandal, named X-2-O, on Mingala Taung Nyunt township's Kandawkyi Ring Road at the Kandawkyi lake park area at about 3 p.m. (local time).
Hundreds of thousands of revelers were overjoyed in water throwing when the blast went off.
The blasts caused panic among the revelers then, while the injured were rushed to nearby hospitals for treatment, especially the biggest Yangon General Hospital which was packed with relatives of the victims.
Related stories