Maldives president pleads for climate action
2009-09-23 10:07 BJT
Special Report: Hu attends UN, G20 Summits |
UNITED NATIONS, Sept. 22 (Xinhua) -- In an emotional speech, President of the Maldives Mohamed Nasheed told world leaders on Tuesday that his country's fate depends on their ability to stop the political bickering and come to an agreement on global warming.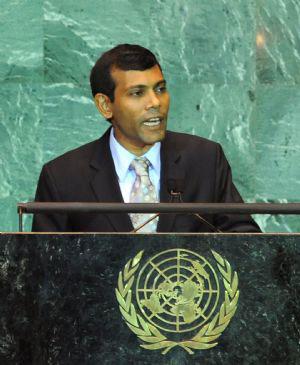 Maldives President Mohamed Nasheed addresses the United
Nations Climate Change Summit at the UN headquarters in
New York Sept. 22, 2009.(Xinhua/Shen Hong)
"If things go business as usual, we will not live," he said at the UN climate summit. "We will die. Our country will not exist."
As the Arctic polar caps melt and the waters warm, the Maldivesis threatened by rising sea levels, extreme weather and coral bleaching. Not waiting for a post-Kyoto pact, the Maldives recently announced it would become carbon neutral by 2020.
"We cannot make Copenhagen a pact for suicides," he said. "The threat posed by climate change is so now acute, the science is so clear, the solution so apparent, and the cost-benefits analysis of action and inaction so alarming, that such horse trading and brinkmanship must be left in the past."