Highlights of Chinese president's tour to U.S.
2010-04-14 14:39 BJT
Special Report: Hu Attends 2 Summits, Visits 3 Nations |
BEIJING, April 14 (Xinhua) -- Chinese President Hu Jintao Tuesday delivered a speech at a nuclear security summit in Washington, offering five proposals to boost global nuclear security.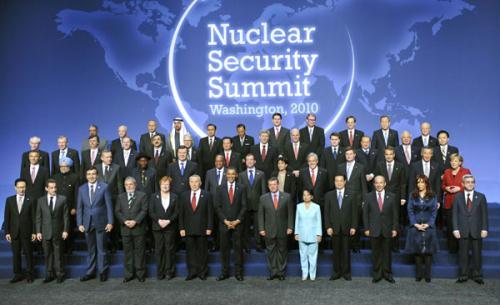 Chinese President Hu Jintao (4th R,front) poses for a group photo with other world
leaders during the Nuclear Security Summit at the Washington Convention Center in
Washington,April 13, 2010. (Xinhua/Li Xueren)
Hu also held talks with German Chancellor Angela Merkel on the sidelines of the summit, which wound up late Tuesday.
The following are highlights of the two activities of President Hu.
WASHINGTON -- Chinese President Hu Jintao Tuesday called for concerted action by all countries to enhance nuclear security while stressing the need to properly address the challenge.
In a speech to the nuclear security summit, Hu put forward five proposals on ways to strengthen nuclear security.
First, the Chinese president said, all countries need to honor their commitments and responsibilities by adopting effective measures to secure nuclear materials and facilities.
Second, Hu said, they should consolidate the existing international legal framework on nuclear security, which consists of the Convention on the Physical Protection of Nuclear Material and International Convention for the Suppression of Acts of Nuclear Terrorism.
Hu's third proposal is to strengthen international cooperation by sharing experience, exchanging information and cooperating on law enforcement.
Related stories