Macao SAR hosts Gala to commemorate Macao's return to China
2009-12-20 08:51 BJT
Special Report: Macao 10 Years On |
Full video: Celebration Gala Part 1 Part 2 Part 3
The Macao Special Administrative Region's government has hosted an evening Gala to commemorate the 10th anniversary of Macao's return to China.
President Hu Jintao attended the event. The gala featured symphonies, choruses and dances to highlight the achievements made by the Macao people over the past decade.
The stage was specially designed with advanced acoustics and visual effects.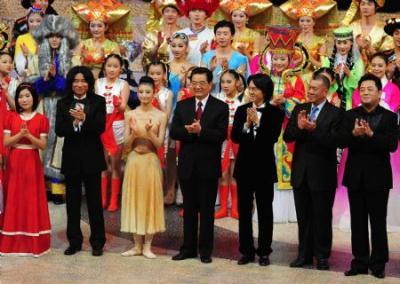 Chinese President Hu Jintao (4th L, front row) joins the chorus to
sing the song "Ode to the Motherland" together with performers during
the grand show celebrating the 10th anniversary of Macao's return to
the motherland, in Macao Special Administrative Region, south China,
Dec. 19, 2009. (Xinhua/Chen Duo)