In Europe, heavy snowfall has forced the delay or cancellation of many flights in France and Germany. And in Poland, highway travel has been disrupted by the storm.
Snow continued to disrupt transport across Europe.
In Germany, more than 200 domestic and international flights have been cancelled.
In the city of Nuremberg, an Air Berlin plane slid off the runway and got stuck in the snow late on Friday night. Nobody was injured, but the airport was closed for more than two hours.
The slippery runway left passengers with no choice but to wait.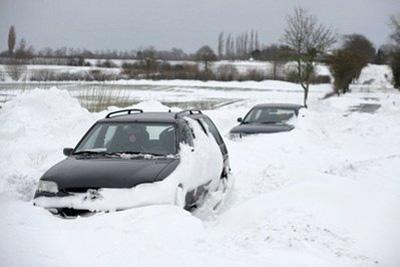 Car are stuck in drifting snow near the northern German town
of Soehlen. (AFP/DDP/Philipp Guelland)